Cold Mac, thanks for the info! You've given me a lot to think about (more than I really understand)
Here's a link to the cross section of a stock C6 muffler. Tell me if I understand this correctly. The sound waves enter the muffler from the top right pipe. It looks like the first chamber is a Helmholtz resonator, and is the largest of the three, so I assume it attenuates lower freqs. The central chamber acts as both an absorption chamber and perhaps a mid-range resonating chamber as well as passing a small amount of energy directly into the exit pipe. Finally whatever sound energy is left enters the last resonator (far left) which is the smallest and presumable acts on higher freqs.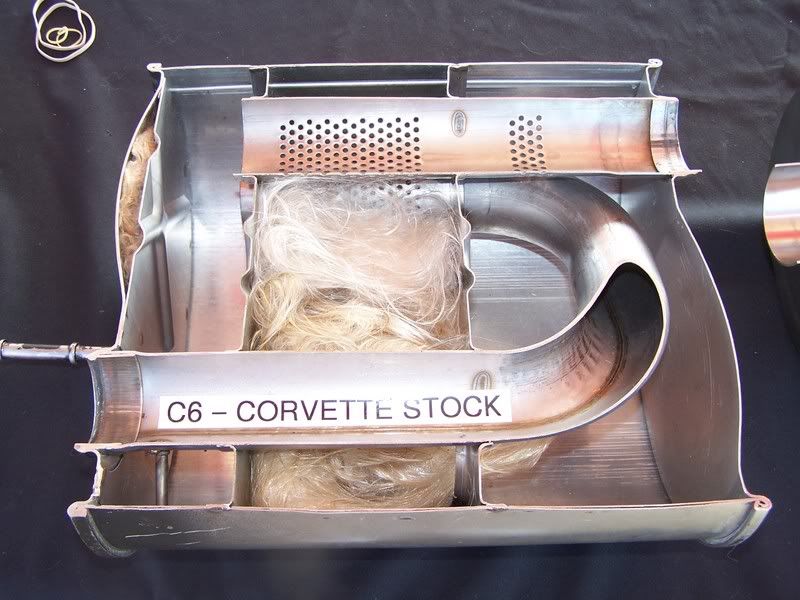 What everyone does for the mod is drill two 1/2" to 1" holes (depending on how loud you want it) in the exit pipe just about at the point where the sticker says "C6" Then they seal up the access hole in the outer skin of the muffler.
You know what...never mind. I really don't understand all this. I think I've got it all backward. I'll repost after I do my homework. The Corsa site is also informative.
BTW, are you still in the ROK? I'm in Beijing, we're only one time zone apart! It's late, thanks again - mark