Hi all
Some time ago i bought a very small tube amplifier and i want to replace every cap and resistor in it.
Also the tubes i want to replace.I have no experience so my questions might look stupid.I know i can find a lot of information on internet but i need to be 100% sure i do and choose things right.
Let's start with the tubes; There are 2* 30A5-9CN tubes and 1*12AX7 tube.
*Do the 30A5 tubes need to be matched?
*Can i replace somehow the 12AX7 tube with 6H1N-EB? (I have a few 1984 NOS)
--------------------------
The big capacitor next to the transformator is in a round clamp on the board and has 4 connections on top and read this on the side; Suzuki 60.40.30 MFD red yel neg black 150WV
This are the other caps and resistors;
* 50uf 10v
* 2l 100Ω Suzukiohm
* 2L 1.5k Suzukiohm
* Suzuki oil JCP-A 0.002uf 400WV (2 pieces)
* Same as above 0.01uf (2 pieces)
* same as above 0.005uf (2 pieces)
* same as above 0,001Uf (2 pieces)
* Me 630v 103k (2 pieces)
* Suzuki 2M 100K
* Suzuki K 5KΩ
* 01 uf 500 (This is a round flat orange thing,everything else is axial.)
Can someone explain please the above caps and resistors?How to read them,with what can i change them and everything else what's worth mentioning.
--------------------------------------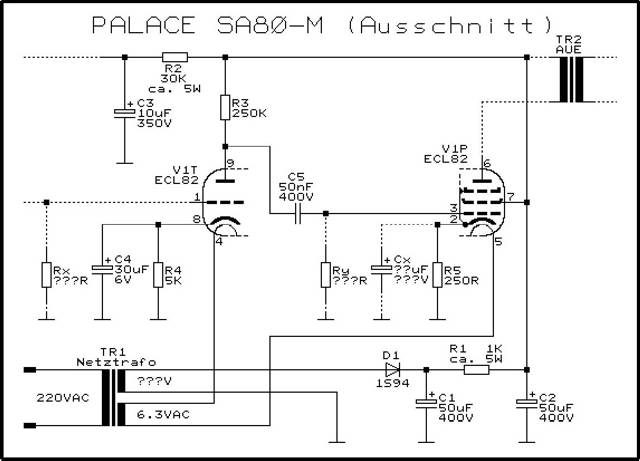 * This might be the scematic but i,m not sure.I have 3 tubes and some pictures on internet have 4 tubes.Maybe phono?
* Is it better to replace all the old wiring?
* How can i find out what Ω speakers i need to connect?
* Other things i need to know?
It's a lot of questions but i tried to be as clear as i could.My goal is first to bring it back to it's original state with decent components.If that works and i understand the amplifier better i can maybe try some tweaking.I understand this is not HiFi.I just want to play with a vey simple amp to learn.
Thanks for reading!